Old wood shingles
You never want to see wood shingles as the roof deck when you enter the attic. If the house has composition shingles applied over wood shingles, the roof's life expectancy is severely reduced and the roof may be uninsurable. Maintenance costs will be higher and when the roof is replaced both the wood and composition shingles will have to be removed and the roof will have to be re-decked, adding to the cost of roof replacement.
Once the standard for residential roofing, Dallas was one of the first major cities in the United States to prohibit untreated wood shingles roofing due to fire concerns back in 1980. In the municipalities where wood shingles were allowed, they were popular in some neighborhoods up until the mid-90's when they were almost universally banned. Wood shingles may have a characteristically charming appearance, but they have disadvantages compared to all other types of roofing material. They tend to leak and they are difficult to repair because of the difficulty of walking on them without damaging them further. And most importantly, they are very flammable and the smallest of sparks could set them afire. It was no coincidence that home fires would go up dramatically during cold winters when sparks from wood burning chimneys would be carried by blustery winds.
When replacing wood shingles roofs with modern, less flammable materials -- usually composition shingles -- some homeowners chose to cover the old wood shingles with new composition shingles in an attempt to save the cost of re-decking. Wood shingles rest on slats, boards run horizontally with spaces between the shingles. Composition shingles need to be nailed on a flat deck with no spaces. Installing composition shingles over wood shingles only mitigated some of the fire risks associated with wood shingles. After all the wood shingles are still there and subject to accidental ignition from interior sources. And that new roof that was installed voided the manufacturer's warranty immediately due to improper installation. Increased maintenance costs and a shorter life expectancy are certain. It was a bad idea that has only one solution -- tear off all the layers of roofing and install a new roof.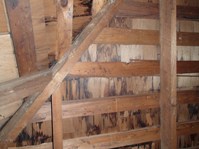 (C) Copyright 2015 Armor Inspections Click to return to Free Advice Main Page.
Armor Inspections blogs about home related topics weekly. If you want to be notified when a new topic is posted, please like us on Facebook or Google+.