Fiberglass insulation in the crawlspace under the flooring
Occasionally floor insulation is found in the crawlspaces of historic homes. It is almost never installed correctly and in many cases the potential for creating a condition that may promote mold and wood rot far outweighs any increased thermal efficiency (if any). Fiberglass batting in the most commonly used type of insulation found on the sub flooring of historic homes. This material is particularly unsuited for this application. Usually found stapled to the sub flooring, there are no fasteners that will support fiberglass batting when it is suspended. Over time it always begins to fall off. Gravity always wins. Even before it falls off, it loosens and creates gaps and pockets reducing any thermal benefits. Insulation needs to be tight and consistently fill all spaces to be effective. In the crawl space, insulation must cover all areas of the wood floor joists or it will trap moisture and promote rot. Hanging from the sub flooring, fiberglass batting will never be tight or consistent. And those gaps and air pockets may trap moist air against the wood work, promoting mold and wood rot. In the picture below, not only is the insulation falling off, but it is installed backwards. The paper backing is the moisture barrier on fiberglass batting. It should always be installed next to the wood.
There are other materials that are more effective such as small cell spray foam insulation. These materials must be rated for crawl space applications and expertly applied. It is not a do-it-yourself job or a job for an untrained handyman. If you are doing a complete remodel of a historic home and you are planning on taking up all the old wood floors and installing them with new or refinished wood flooring, re-decking the sub flooring with structural insulated panels (SIPS) is a very efficient way to add energy efficiency and comfort. These panels have a foam core faced on both sides with plywood. Again these will need to be rated for crawl space applications, but they are currently the most effective way to insulate wood floors in homes with crawl spaces.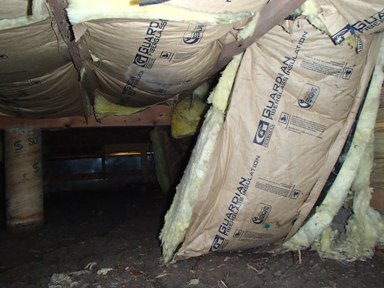 (C) Copyright 2015 Armor Inspections Click to return to Free Advice Main Page.
Armor Inspections blogs about home related topics weekly. If you want to be notified when a new topic is posted, please like us on Facebook or Google+.