Prairie Style and Craftsmen Wallpaper
Dallas is blessed with some wonderful older neighborhoods filled with many historic homes of various architectural styles. As these homes have been updated over the years, sometimes their original period details have been removed or concealed. It is always interesting when some of these lost details are rediscovered during a repair or remodel. Sometimes those details will not be so much concealed as tucked away. By opening a closet door in a house where all the original wood work and wood flooring has been replaced, you might find the original hardwood flooring and wood trim that is missing elsewhere in the home. Another example of a historical detail that is sometimes found in older homes is period wallpaper. In Prairie Style and Craftsmen homes it was customary that the interior walls would be wood lapboards covered with wallpaper. Sheetrock wasn't commonly used in residential construction until World War II and plaster was too expensive an option for many home owners. Wallpaper was a dressy, but cost effective option. In the era when many homes were built from standard floor plans sold by the major retailers of the day (Sears, Montgomery Ward, etc.), wallpaper was a way for the homeowner to personalize their home. If you live in a Prairie Style or Craftsmen home and the walls are sheetrock, it is possible, even likely, that under the sheetrock is the original lapboards and the now faded wallpaper. This is sometimes revealed during remodels when walls are removed or taken down to the studs.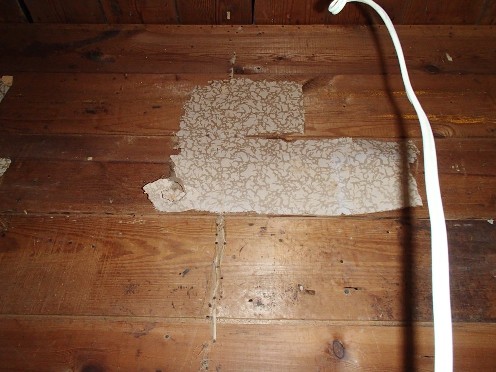 Click here see more wallpaper pictures
(C) Copyright 2015 Armor Inspections. Click to return to Free Advice Main Page.
Armor Inspections blogs about home related topics weekly. If you want to be notified when a new topic is posted, please like us on Facebook or Google+.